Illumina Inc is traded on Nasdaq as ILMN. The CUSIP number for Illumina's common stock is 452327109.
Illumina Inc develops, manufacturer and markets integrated systems, consumables and analysis tools for the sequencing, genotyping and gene expression markets. Among other things, they sell sequencing and array platforms, reagent kits and scanning equipment.
The scope of Illumina's products is immense. Illumina's technologies and products can for instance be used to identify the molecular changes in a tumor during all stages of tumor progression. In the field of reproductive-health, Illumina offers solutions for pre-implantation genetic screening (PGS), pre-implantation genetic diagnosis (PGD), non-invasive prenatal testing (NIPT) and neonatal and genetic health testing. These are just a few examples of situations where Illumina's products have very hands-on applications.
Purchasing shares directly from the company?
There is no direct stock purchase plan for Illumina shares.
Dividends planned?
Illumina does not issue dividends on common stock and has no Dividend Reinvestment Plan (DRIP).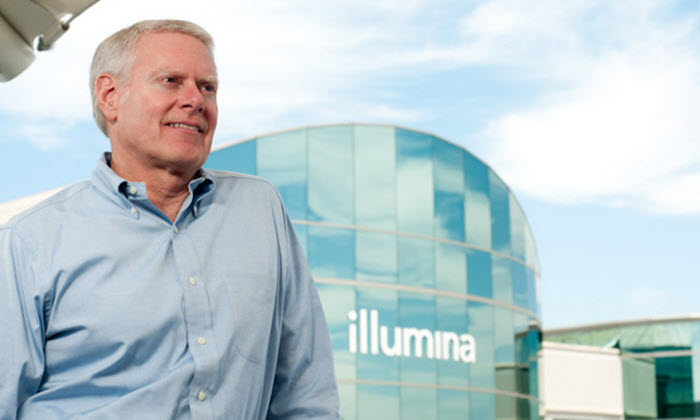 What is this company selling?
Illumina offers microarray-based products and services for genetic analysis sequencing, such as
protein analysis, SNP genotyping and gene expression.
Among Illumina's clients, you will find hospitals, laboratories (including government laboratories), genomic research centers, academic institutions, biotech research facilities, agrigenomic labs, and genomics companies catering to the needs of consumers.
Examples of products and services available from Illumina
Golden Gate Methylation profiling
Infinium Methylation profiling
Several very high-throughput DNA sequencing systems
Every Genomoe (full genome sequencing service sold through health care professionals)
Next-generation (NGS) laboratory information management systems (LIMS), including Clarity LIMS Silver and Clarity LIMS Gold.
Examples of brands owned by Illumina
| | | | | |
| --- | --- | --- | --- | --- |
| BaseSpace | DASL | GenomeStudio | Infinium | NeoPrep |
| BeadArray | DesignStudio | GoldenGate | iScan | NextBio |
| BlueGnome | Epicentre | HiScan | iSelect | Nextera |
| cBot | ForenSeq | HiSeq | MiSeq | NextSeq |
| CSPro | Genetic Energy | HiSeq X | MiSeqDx | |
Background & Future
Illumina was founded in 1998 by Larry Bock, Mark Chee, Anthony Czarnik, John Stuelpnagel, and David Walt. The company was incorporated in California, USA in April 1998.
Larry Bock and John Steulpnagel developed the basics of the bead-array technology at Tufts University, with funding from the venture capitak firm CW Group.
Illumina re-incorporated in Delware, USA in July 2000 and made their Initial Public Offering. When the corporation went public on July 28, it was at a price of 16 USD per share (split adjusted basis: 8 USD/share).
In 2001, Illumina started offering single nucleotide polymorphism (SNP) genotyping services.
In 2002, the Illumina BeadLab was launched, based on GoldenGate Genotyping technology.
In 2007, Illumina acquired Solexa.
On September 23, 2008, Illumina did a 2-for-1 stock split.
Illumina announced the launch of their Personal Full Genome Sequencing Service in 2009.
Illumina acquired Epicentre Biotechnologies in 2011.
Hoffman-La Roche tried to buy Illumina in 2012, first for a total of 5.7 billion USD and then for approximately 6.8 billion USD, but was rejected both times.
By January 2014, Illumina held 70% of the market for genome-sequencing machines. Also, Illumina machines accounted for over 90% of all DNA data produced.
The company was declared "The World's Smartest Company" by MIT Technology Review in 2014.
In 2014, Illumina announced HiSeq X Ten.
At the time of writing, the newest generation of Illumina SBS instruments can generate over 1 terabase of data per run.
Solexa
Solexa has its roots in research carried out in the Chemistry Department of Cambridge University, UK. In the mid-1990s, Shankar Balasubramanian, Ph.D. and David Klenerman, Ph.D. were using fluorescently labeled nucleotides to observe the motion of a polymerase at the single molecule level as it synthesized DNA immobilized to a surface.After a series of creative discussions in the lab (and in the local pub), the two scientists had come up with the basis of a new approach to DNA sequencing. The following year, they contacted Abingworth Management to seek venture capital to start a company. Abingworth Management agreed to provide them with seed money to form Solexa.
Solexa Ltd was founded in the United Kingdom in June 1998.
In the year 2000, the research work was moved from the Cambridge Chemistry Department to Solexas' own corporate facilities in Chesterford Research Park.
In 2001, the research attracted £12 million in Series A funding.
In 2004, Solexa acquired Menteia's molecular clustering technology from Manteia Predictive Medicine. With this technology, Solexa could enhance the fidelity and accuracy of their gene calling.
In 2005, the Solexa team of researchers sequenced the complete genome of bacteriophage phiX-174. The bacteriophage had already been sequenced by Sanger, but Solexa managed to generate significantly more sequence data – over 3 million bases from a single run!
Through a reverse merger, Solexa Ltd acquired Lynx Therapeutics in 2005, thus becoming a public company (Solexa INC) listed at NASDAQ. The company now had offices both Chesterford, UK and Hayward, CA, USA.
The Genome Analyzer (Solexa's first sequencer) was launched in 2006. It was now possible to sequence 1 gigabase of date in a single run!
In 2007, Solexa was acquired by Illumina.
Practical info
| | |
| --- | --- |
| Company type | Public company |
| Industry | Healthcare |
| Traded as | NASDAQ: ILMN |
| Founded | 1998 |
| Headquartered | San Diego, California, USA |
| Website | illumina.com |
Contact information
Illumina, Inc
5200 Illumina Way
San Diego, CA 92122
USA
Phone #: 858-882-2080
Email address: ir@illumina.com
Transfer agent
Computershare Trust Company, N.A.
250 Royall Street
Canton, MA 02021
USA
Phone #: 800-251-4215
Web site: Computershare.com