Keurig Green Mountain IPO:ed in 1993 and has been trading as GMCR at Nasdaq. On Monday December 7, 2015, the company announced that it was to be acquired by a group of investors headed by JAB Holding Company in the first quarter of 2016, putting an end to Keurig Green Mountain's time as a public company.
The payment for Keurig Green Mountain was $92.00 per share in cash, a total of $13.9 billion. This was a premium of approximately 78% over Keurig Green Mountain's closing stock price on Friday December 4.
Purchasing shares directly from the company?
Keurig Green Mountain is no longer a public company.
Dividends planned?
Keurig Green Mountain is no longer a public company.
What is this company selling?
Keurig Green Mountain sells coffee and other beverages, and brewing-machines. Their offer includes over 80 different brands and more than 575 beverage varieties. Brewing-machines are available for both hot drinks (such as coffee and tea) and cold drinks (such as sparkling water, soft drinks and sports drinks).
Examples of well-known products sold by Keurig Green Mountain:
Keurig Hot
Keurig Kold
Green Mountain Coffee
Green Mountain Naturals
Union St Lounge Cocktail Mixers
Flynn's Soda Shop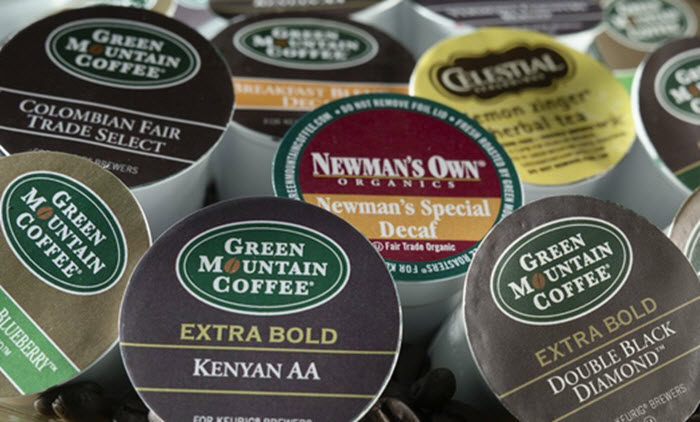 Background & Future
The story of Keurig Green Mountain started when entrepreneur Bob Stiller drank a cup of amazing coffee near a ski resort in Vermont and decided to find out where the roasted coffee beans came from. They turned out to come from a small specialty coffee roasting company in Waitsfield, Vermont. In 1981, Stiller and a partner purchased a two-thirds stake in that roasting company. Within two years, Stiller bought out all the other owners and became the sole owner of the company. He also moved production to Waterbury, Vermont.
Bob Stiller actively marketed his Green Mountain coffee by handing out free samples, instead of spending big bucks on advertising.
Green Mountain embraced environmentally and socially friendly policies and practices early on. By 1983, used coffee grounds were composted at the retail stores. Green Mountain introduced a line of organic coffee in 1986. Eventually, Green Mountain grew into one of the world's largest suppliers of coffee that was both certified organic and certified fair-trade.
In 1986, Still launched a mail-order business for coffee. This was also the year when his coffee entered the shelves of the supermarket-chain Kings.
In the early 1990s, the U.S market for coffee began to shift, with higher consumer interest in specialty coffees. Between 1991 and 1993, Green Mountain Coffee Roasters went from roughly 1,000 wholesale clients to approximately 2,400 wholesale clients.
In 1993, Mountain Coffee Roasters Inc IPO:ed and started trading publicly on Nasdaq under the ticker GMCR. The company quickly expanded its mail-order business, wholesale business, food-service distribution and number of retail locations.
Green Mountain Coffee Roasters invested in the start-up Keurig in the early 1990s.
In 1994, Green Mountain Coffee Roasters Inc commenced export to Canada and Taiwan.
In 1996, Green Mountain Coffee Roasters Inc purchased a 35% interest in Keurig.
In 1997, Green Mountain Coffee Roasters Inc became the first roaster to offer coffee in a K-Cup pod for the Keurig Single-Cup Brewing System.
By the late 1990s, coffee from Green Mountain Coffee Roasters Inc could be purchased in a wide variety of outlets, from supermarkets and gas stations to specialty coffee stores and venues like LL Bean and office supply store Staples. Several airlines were now offering Green Mountain Coffee, and so did Amtrak. Through a deal with bottled water manufacturer Poland Spring, Green Mountain coffee was made available to thousands of offices in north-eastern United States. Other important partnerships were those with the American Skiing Company and On the Run (ExxonMobil).
In 1999, Green Mountain Coffee Roasters started exporting coffee to the United Kingdom.
Green Mountain Coffee Roasters acquired the company Frontier Organic Coffee in 2001.
In 2002, Green Mountain Coffee Roasters was contracted to sell fair trade coffee under the Newman's Own Organic label.
In 2005, Green Mountain Coffee Roasters struck a deal with McDonalds, making Newman's Own Organics coffee available in over 600 McDonald's restaurants in northeastern United States.
Green Mountain Coffee Roasters continuously increased their ownership in Keurig. By 2003, they owned 43 percent of the company. In 2006, they became the only owner of Keurig. This acquisition was in line with Green Mountains' wish to shift away from low-margin wholesale of coffee. Selling K-Cups for Keurig coffee machines offered much higher margins.
In 2009 and 2010, Green Mountain Coffee Roasters acquired four Keurig licensees: Van Houtte, Diedrich Coffee, Tully's Coffee and Timothy's World Coffee.
The Canadian Business Unit of Green Mountain Coffee Roasters, Inc was formed in 2010. (Since 2014, the name is Keurig Canada Inc.)
In 2011, Green Mountain Coffee Roasters entered into important deals with Dunkin' Donuts and Starbucks, respectively. Dunkin' Donuts coffee was made available in K-Cup pods and selected Dunkin' Donuts restaurants began selling Keurig Single-Cup Brewers. Starbucks coffee and Starbucks tea was made available in pods and the coffee shops started selling Keurig brewers.
The customizable Keurig Vue brewer with its Vue packs was launched by Green Mountain Coffee Roasters in 2012, and so was the Rivo brewer for cappuccino, espresso and latte.This was the same year as the patents for the K-Cup expired.
A full-pot brewer (the Keurig Bolt) intended for offices was launched in 2013.
The Coca-Cola Company purchased a 10% stake in Green Mountain Coffee Roasters Inc in February 2014. In May, they increased their stake to 16%.
In March 2014, Green Mountain Coffee Roasters changed the company name to Keurig Green Mountain. The stock market symbol GMCR was not changed.
The Keurig 2.0 brewer was launched in the fall of 2014.
The K-Mug pod (for travel mugs) was launched in the first quarter of 2015.
The small K200 was launched in mid-2015.
In 2015, General Electric announced that they would include a Keurig coffee machine in the door of their Café French Door Refrigerator.
In September 2015, Campbell's Soup was made available in K-Cups.
The Keurig Kold for soft drinks, sparkling waters, sports drinks, etc was launched in the third quarter of 2015, in collaboration with The Coca-Cola Company and the Dr Pepper Snapple Group.
I December 2015, Keurig Green Mountain Inc announced that it was to be acquired by a group of investors headed by JAB Holding Company in the first quarter of 2016 for a total of 13.9 billion USD. This marks the end of Keurig Green Mountain Inc as a publicly traded company.
Practical info
| | |
| --- | --- |
| Company type | Private company |
| Industry | Processed & Packaged Goods |
| Traded as | Not publicly traded anymore |
| Founded | 1981 |
| Headquartered | Waterbury, Vermont, USA |
| Website | KeurigGreenMountain.com |
Contact information
Keurig Green Mountain, Inc.
33 Coffee Lane
Waterbury, VT 05676
USA
Phone #: +1- 646-762-8095 or 802-488-2559
Email address: investor.services@gmcr.com or kristi.bonner@keurig.com
Transfer agent
Keurig Green Mountain is no longer a public company.