Medivation Inc is a biopharmaceutical company. Their focus is the development and commercialization of therapies, especially small molecule drugs, to treat serious health conditions for which there is currently limited treatment options available. A key aspect of their business model is to bride the gap between early-development of treatments and the commercial launch of treatments. Medivation acquires promising early-development stage pharmaceuticals and medical devices and execute a strategic pathway for their rapid further development into usable and approved treatments. Generally speaking, Medivation only purchases products that they deem to be ready enough to enter clinical development within 12-18 months after purchase.
Medivation's common stock is traded on the Nasdaq Global Market under the symbol MDVN. Previously, the company's stock was traded on the American Stock Exchange under the symbol MDV.
Medivation has three subsidiaries: Medivation Prostate Therapeutics, Inc. (MPT), Medivation Neurology, Inc. (MNI) and Medivation Technologies, Inc. (MTI). MPT holds the MDV300 series technology. MNI holds dmebon technology. MTI holds earlier stage technologies.
Purchasing shares directly from the company?
Medivation does not have a direct stock purchase plan.
Dividends planned?
At the time of writing, Medivation does not anticipate paying any cash dividends on common stock in the foreseeable future. Earnings will instead be used to finance the development and expansion of the business. Since there are no dividends planned, there is no dividend reinvestment program available.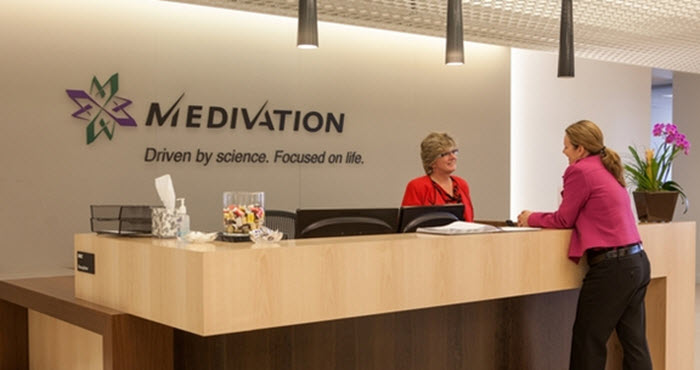 What is this company selling?
At the time of writing, Medivation has one commercial product on the market. This product is called XTANDI. In several parts of the world, including the United States and Europe, XTANDI is approved for the treatment of metastatic castration-resistant prostate cancer (mCRPC). In Japan, XTANDI is approved for the treatment of castration-resistant prostate cancer (CRPC).
The active ingredient in XTANDI is enzalutamide. Enzalutamide is an androgen receptor inhibitor.
XTANDI is an oral capsule taken once-daily.
Background & Future
Medivation was incorporated in Delaware in October 1995. The company didn't carry out any substantive business operations until December 2004, when it acquired Medivation Neurology, Inc. Until June 2005, the company's corporate name was Orion Acquisition Corp II.
On August 31, 2012, Medivation and its collaboration partner Astellas Pharma Inc announced that the U.S. Food and Drug Administration (FDA) had granted approval to XTANDI capsules for the treatment of patients with metastatic castration-resistant prostate cancer who have previously received docetaxel.
At the time of writing, Medivation is working together with Astellas Pharma, Inc to carry out investigational studies of how enzalutamide impacts prostate cancer and advanced breast cancer.
From CureTech Ltf, Medivation has licensed exclusive rights to pidilizumab, an immune modulatory, anti-Programmed Death-1 (PD-1) monoclonal antibody. The license is worldwide and for all potential indications. Medivation is responsible for all development, regulatory, manufacturing, and commercialization activities for pidilizumab.
Practical info
| | |
| --- | --- |
| Company type | Public company |
| Industry | Pharmaceutical |
| Traded as | NASDAQ: MDVN |
| Founded | 2004 |
| Headquartered | San Francisco, California, USA |
| Website | Medivation.com |
Contact information
Medivation, Inc.
525 Market St., 36th Floor
San Francisco, CA 94105-2747
USA
Phone: +1-415-543-3470
Fax: +1-415-543-3411
Email address: info@medivation.com
Transfer agent
American Stock Transfer & Trust Company is the transfer agent for Medivation's common stock. They are responsible for maintaining the record of registered Medivation stockholders.
Website: Amstock.com