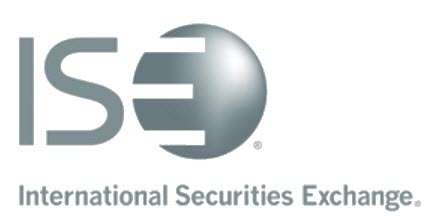 Launched in 2000, the International Securities Exchange (ISE) is an electronic options exchange. When it became active, it made a huge difference for options traders, as the transactions could now be executed much faster than with the traditional open outcry trading floor model. The existence of ISE also came to greatly increase liquidity in the options market, and the added liquidity helped reduce option price volatility.
In 2016, ISE was acquired by Nasdaq. ISE is now owned by International Securities Exchange Holdings, Inc., which is a wholly owned subsidiary of Nasdaq, Inc., and a member of both the Options Clearing Corporation (OCC) and the Options Industry Council (OIC). Since the exchange is now owned by Nasdaq, it is often referred to as Nasdaq ISE or Nasdaq´s ISE.
Options trading at ISE
Option contracts for over 3,000 different underlying equities, indices and exchange-traded funds (ETFs) are traded at ISE.
ISE offers proprietary index products and foreign currency exchange options.
ISE operates three exchanges for U.S. options: ISE, ISE Gemini and ISE Mercury.
The ISE market data tools provide risk management information and other important information for options traders.
Only those who have a Nasdaq membership can participate on the ISE. Being approved for membership is not easy, as there are many stringent requirements that must be met.
ISE ETF Ventures was introduced in 2013.
In 2020, Nasdaq processed 365 million options market trades, which was a 52% volume increase over 2019.
Understanding the development of ISE
Background
In 1997, William A. Porter and Maety Averbuch from E-Trade approached David Krell and Gary Katz with an idea for an electronic options exchange, and together the four started working on turning the idea into reality.
Early days
When ISE was launched in 2000, it was the first electronic options exchange in the United States. Trading commenced on May 26, 2000, and by 2001, the average daily trading volume had already reached 264,000 option contracts. The growth continued, reach a daily average of circa 1.4 million option contracts in 2004 – one-third of the total market för U.S. equity options.
In 2005, ISE Inc. went public, with its IPO taking place in March.
After the IPO
In 2007, the average daily trading volume exceeded 3 million option contracts. ISE was now the largest equity options exchange in the whole world.
Back to being privately owned
ISE´s time as a publicly traded company was fairly short lived, as the company was purchased by Deutsche Börse in 2007. In 2008, ISE became a wholly owned subsidiary of the electronic communication network company Direct Edge Holdings, through a deal where ISE simultaneously got an ownership stake in Direct Edge.
In 2016, Nasdaq bought ISE for 1.1 billion. Among other things, this transaction meant that Nasdaq took over ISE´s stake in the Options Clearing Corporation – the world´s largest clearinghouse for equity derivatives – bringing Nasdaq´s total holdings in the Options Clearing Corporation up to 40%.