The Priceline Group is a provider of online travel and travel related services. The Priceline Group trades on the Nasdaq Global Select Market under the ticker symbol PCLN. Their six primary brands are Priceline.com, Booking.com, KAYAK (www.kayak.com), Agoda.com, Rentalcars.com, and OpenTable (www.opentable.com). The Priceline Group also owns several auxiliary brands such as Norskkreditt (www.Norskkreditt.no).
The Priceline Group has had a commercial relationship with the mainland China-focused travel agency Ctrip since 2012 and has made substantial investments into the company.
Priceline first became famous for its "Name Your Own Price" system, a bidding system for reversed travel-related auctions online. With this system, prospective travelers can make a bid on hotel accommodation, airline tickets, travel packages, etc. While the bidder can set certain perimeters, such as general location and service level, other details are not disclosed to the bidder until after he or she has won an auction and made the purchase, without rights to cancel. This includes information about the name of the provider of the service, exact flight itinerary, name and exact location of the hotel, etc. Through this opaque model, suppliers can sell perishable inventory by going down in price without having to lower the price at their other sales channels.
Purchasing shares directly from the company?
No, the Priceline Group does not offer a Direct Stock Purchase Plan.
Dividends planned?
At the time of writing, The Priceline Group does not anticipate paying any cash dividends on common stock in the foreseeable future. Earnings will instead be used to finance the development and expansion of the business.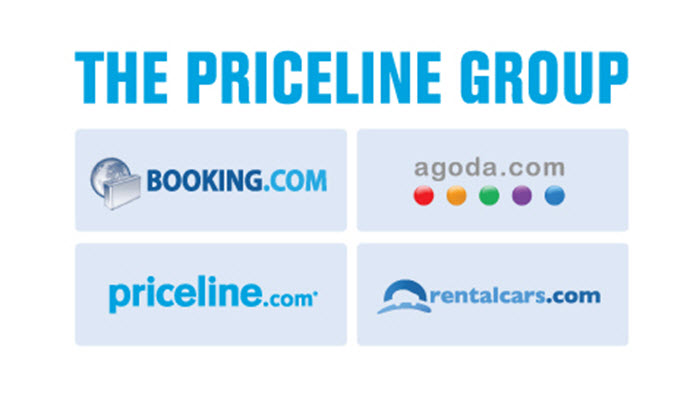 What is this company selling?
The Priceline Group is offering travel and travel related services online through their six main brands.
At Booking.com, it is possible to book accommodation in over 600,000 properties located in 200+ countries. The site also includes additional features, such as over 45 million reviews written by guests.
Priceline.com offers deals and price information about accommodation, airline tickets, rental cards, cruises, vacation packages, and more. This site features the patented Name Your Own Price bidding service.
Kayak.com searches other travel sites, including online travel agencies, airline sites, hotel sites and rental car sites, and displays the information for Kayak users.
Agoda.com is a global accommodation reservation service with an Asian focus.
Rentalcards.com work with car rental agencies in 165+ countries worldwide, making it easy to compare prices and book your car in advance. Over 2 million ratings and reviews available.
OpenTable lets you make restaurant reservations online. Focus on North America, Australia, Japan, United Kingdom, Ireland, and Germany.
At the time of writing, a vast majority of The Priceline Group's revenue comes from hotel bookings. Two models are employed, the merchant model and the agency model. In the United States, Priceline operates primarily under the merchant model, where users bid for services and complete their booking (including payment) directly at a site owned by Priceline. This allows for higher margins compared to the agency model, where Priceline's net revenues are generated by commissions and booking fees.
The Priceline Group also generates revenue from displaying advertisements on its web sites.
Background & Future
The limited liability company Pricline.com LLC was formed on July 18, 1997.
The site Priceline.com was launched on April 6, 1998.
Priceline was incorporated (as Priceline.com Incorporated) in the state of Delaware on July 30, 1998.
The Priceline Group went public in 1999. The IPO (initial public offering) was made on March 29, 1999.
In 2000, Priceline experimented with selling gasoline and groceries through its "Name Your Own Price" model. These experiments were carried out through a partially owned affiliate named WebHouse Club.Other experiments carried out in the early 2000s (and terminated by 2002) were Priceline Yard Sales, as well as the sale of automobiles and long distance telephone services using the Name Your Own Price model.A more successful experiment was the one were Name Your Own Price was utilized for home loans. This service is now licensed to EverBank.
In 2002, Priceline licensed its "Name Your Own Price" travel system to eBay.
In 2012, Priceline entered into a commercial partnership with the Chinese online company Ctrip.com International Ltd.
In April 2014, Priceline.com Incorporated announced a name change. The new name was The Priceline Group Inc. The name change was intended to highlight the fact that the corporation is the owner of five major brands in addition to Priceline.com.
In August 2014, Priceline announced that it would invest 500 million USD in Ctrip.com International Ltd and that Priceline and Ctrip would increase their cross-promotion of each other.
In May 2015, Priceline anncounded that it would l invest an additional 250 million USD in Ctrip.
Practical info
| | |
| --- | --- |
| Company type | Public company |
| Industry | Travel, hospitality, advertising |
| Traded as | NASDAQ: PCLN |
| Founded | 1997 |
| Headquartered | Norwalk, Connecticut, USA |
| Website | pricelinegroup.com |
Contact information
The Priceline Group
800 Connecticut Avenue
Norwalk, Connecticut 06854
USA
Phone number: +1 203 299 8000
Transfer agent
The transfer agent for The Priceline Group is the American Stock Transfer & Trust Company, LLC.. This transfer agent can be reached by phone at (800) 937-5449.